SiliconeHoseMotorsportParts - HoseClamps
Murray Corp's Turbo constant tension clamps:
This constant tension design of clip is recommended for use with silicone hoses when fitted to turbocharger compressor outlets and intercooler pipe work. Its unique design compensates for the effects of thermal cycling and compression set of the hose.
Used by WRC rally teams worldwide, it's fitment will reduce the risk of hoses coming loose and blowing off, which in the case of turbocharged cars, could prevent overspeeding of the turbocharger and inevitable failure.
Constant Tension Clamps
Stainless Steel
Internally Ribbed & Sprung
Recommended for Turbo & Intercooler Use
Will not blow off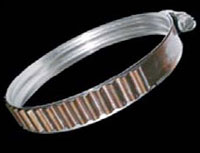 Murray
Bore (mm)
Size
Part No.
Price
Colour / Qty
28-38
N/A
MUR14
£5.71
35-48
N/A
MUR20
£5.67
41-60
N/A
MUR28
£5.33
45-66
N/A
MUR32
£5.28
50-73
N/A
MUR36
£5.23
64-86
N/A
MUR44
£5.64
76-98
N/A
MUR52
£6.10
89-111
N/A
MUR60
£6.82
102-124
N/A
MUR68
£6.96
108-130
N/A
MUR72
£7.05
NOTE: All prices are + VAT @ 20.0%